FOR IMMEDIATE RELEASE
Media Contact
Ashley Hubler
The Wittern Group
Tel: +1 (515) 271.8539
ahubler@wittern.com
The Wittern Group Introduces UVC Light Sanitization Technology for Vending Equipment
With the ability to kill or inactivate up to 99.9% of bacteria and viruses, UVend Technology provides employees and customers with a safer way to enjoy the convenience of on-site snacks and beverage
DES MOINES, IOWA – March 22, 2021 – The Wittern Group, a leading global vending solutions provider, is excited to introduce UVend Technology, its new, patent-pending UV light sanitization solution. UVend Technology makes the high-touch surfaces of vending equipment safer by utilizing UV light to kill or inactivate up to 99.9% of viruses and bacteria, including influenza and the COVID-19 virus*.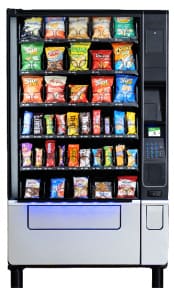 UVend Technology is proven by an independent third-party accredited testing lab to be a safe application of UVC light to sanitize the high-touch surfaces of vending equipment. In fact, UVend Technology utilizes that same UV light sanitization technology that has been used for decades in healthcare organizations, schools, prisons, retailers and the transportation industry.
For user safety, UVend Technology features an automated motion sensor that detects no presence in front of the machine before activating. A visible blue light indicates quick sanitization is in process, allowing the machine to be sanitized after every peak period and giving employees and customers confidence they are touching a sanitized surface.
"Today, safety is key. When purchasing a vending machine, one of the most important considerations is the best machine to provide a safer vending experience for employees and customers," says Andres Martinez-Negrete, Vice President of Engineering for The Wittern Group. "UVend's visible blue light helps organizations show they prioritize safety and it gives their employees and customers peace of mind when getting their next snack or drink."
The Wittern Group manufactures its full line of vending equipment at its 380,000 square foot facility in Clive, Iowa. UVend is available on all of Wittern's most popular machine models from snack machines to cold drink machines to combo refrigerated food and beverage machines and more.
For more information contact The Wittern Group at 1-800-247-1787
About The Wittern Group – Based in Des Moines, IA is a leading global vending solutions provider, offering the industry's most comprehensive range of integrated, full-line vending equipment, services, and technology. Family owned and operated, The Wittern Group has served the convenience services industry since 1931. www.wittern.com — Tel: 1-800-247-1787.
Disclaimer: The Wittern Group automated dispensing equipment with the UVend Technology Ultraviolet-C (UVC) system directs UVC light onto the keypad and delivery door surfaces when the machine is not in use, killing or inactivating bacteria, viruses and other contaminants that might otherwise be passed on to the user of the machine through these high-touch surfaces.  When used properly, UVC light is a proven, safe, and effective sanitization method. For more information about the proper use and effectiveness of UVC light as a sanitization method, please visit wittern.com/uvend-disclaimer.